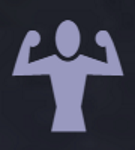 Muscular Power.
Strength improves the Axe, Bludgeon, Heavy Blade, and Polearm skills and increases the damage dealt with those weapons. A high Strength also increases the chance of throwing off the restrained condition.
Related Stats
Edit
At every 3 points invested in strength, melee damage from bludgeon or polearm skills is increased by 1 point.
Related Skills
Edit
Related Conditions
Edit
Related Abilities
Edit
Ad blocker interference detected!
Wikia is a free-to-use site that makes money from advertising. We have a modified experience for viewers using ad blockers

Wikia is not accessible if you've made further modifications. Remove the custom ad blocker rule(s) and the page will load as expected.